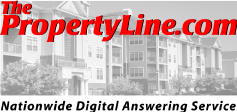 The Most
Reliable and Consistent
Answering Service
for the Professional Property Manager!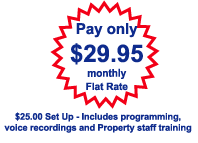 All calls answered immediately with professionally recorded announcements that provide consistency for your properties.
Immediate cell phone notification of emergency maintenance requests to primary on-call – (up to 3 time I 10 minute intervals). Backup maintenance personnel notified if no response from primary on-call. Notification to cell phones via E-voice, cellular call or text.
Maintenance personnel can automatically return emergency call from their cell phone without displaying their cell phone number-only the property answering service number-no more writing down phone numbers!
E-voice (e-mail) copies of maintenance messages to manage I office e-mail for manager property updates and maintenance performance.
Maintenance on-call can be changed online by your staff or we can call your property on schedule Friday I Monday for maintenance updates.
Messages are detailed, accurate, time & date stamped with caller ID and delivered immediately to the responsible individuals. Call detail available online.
We ensure that the manager and maintenance personnel are properly trained before start up.
Optional Features:
Message center for leasing/office and maintenance included -courtesy patrol assistance available $4.95/mo – Spanish prompts $9.95/mo additional.
Text Messaging service is now available for your Apartment complex existing published business number (or Answer US service number). Mobile users may send text messages to your business number- you receive to your office e-mail and mobile device-your staff can respond from either device! $9.95/mo. Add a "keyword" (i.e. INFO) that links to your website – $25.00 set-up.
The Propertyline has E-fax capability-receive faxes to your office e-mail – $5.95/mo.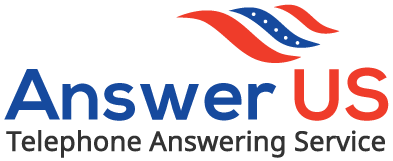 Nationwide Digital Answering Service
8350 N. Central Expwy, Ste. 750
Dallas, TX 75206
800-879-3500 I 972-380-8400
PRESS 3
To speak to a consultant call:
214-520-4420
800-218-1785